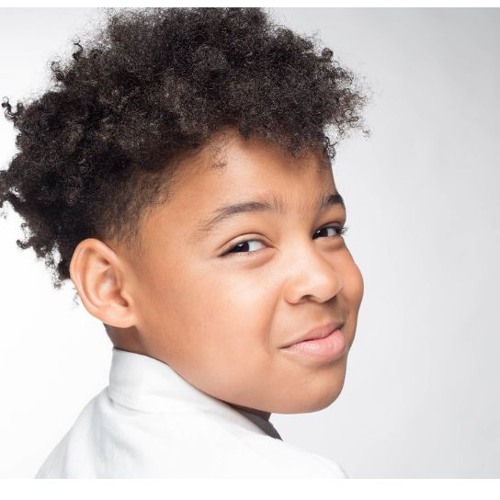 Following his mother, celebrity wardrobe stylist Pilar Scratch, and his aunt- hip hop icon Rah Digga, River Mason Eromosele is taking major steps into the entertainment industry.
He has made appearances on Nickelodeon for "Love Tribe Apparel", "Evil Lives Here" Investigation Discovery, John Legend "Have Yourself A Merry Little Christmas" which debuted on ABC, "Hustlers" movie" starring JLo & Cardi B, Durand Jones & The Indications video "Morning in America" debuting on Billboard, Laurie Berkner Band "This Mountain" which debuted on PBS Kids, Fox "Dr.Oz",  Vh1 "Love & Hip Hop New York", and CBS "The Good Fight" . River has made cameo appearances in countless commercials for PWC For the Tribeca Film Festival, 10 percent Happier digital commercial, Love Pop Greeting Card,  and the scholastic school commercial for Walmart.
Taking a likeness to fashion like his famed mother River has walked in New York Fashion Week . River walked the runway for Sean John, Erika Anzel and Chubiiline. He has had modeling campaigns on countless billboards and print advertisements. His billboard features debuted in Times Square with Junkless Granola Bars, Berkeley's Center for Dezzy Footwear, and Curly Kids Hair Care in California. As well, River partnered with Gogo Squeez Applesauce in which he filmed a commercial with Disney World Resort. The list of print campaigns range from  MoonPod Advertisement, PopSugar "Young Faces", New Pop Popcorn, AlternaVitamins as seen on the Today Show, Bixbee Buzz for Target, Ihop, Roadway Moving Company, Emmy's Organics, & Nature's Bakery social media campaign.
At eight years old he co- hosted "The Queens Youth Musical Festival" alongside actor Jaleel White. Adding to his list of accomplished catalog River Mason Eromosele was requested and walked  EGOT winner Rita Morna down the red carpet at the Bronx Children's Museum. In which, gave River the access to be interviewed by News Channel 12, Oprah Magazine, and People Magazine. Converting into a notable socialite on the east coast,  River has attended immeasurable red carpet events. He has walked the red carpet for major motion pictures such as "The Missing Link" premiere and "The Lego Movie 2" premiere.
River has been featured on the cover of countless magazines: Mallae Kids Magazine, Wildchild Magazine, LWL Magazine, Full Blossom Magazine, Glam CEO Magazine, Fashion Gxd Magazine, Kids Play Magazine, and CEO Kids Magazine. For his contribution in the arts his hometown of Newark, New Jersey a dedication to him is plastered alongside "Newark School of the Arts" presented by the Mayor of Newark Raz Baraka. River has earned the consistent support of vast celebrities such as Beyonce's wardrobe stylist Ty Hunter, Shaun Ross, Patricia Field, Kelly Rowland, Fatman Scoop, among others. Adding to the success of  River  has been featured on numerous blogs ranging from: The New York Post, Huffington Post, The Source Magazine, Madame Noire, Pix 11, Rolling Out, Black Celebrity Kid, Buzzfeed, On Mogul, Medium, Hueish.com, Thrive Global, and WorldNews.com.
In 2019, River MAson Eromosele published his first children's book. River Mason Eromosele's international book "The Sky Is The Limit" is on its way to being a best seller. River sold close to two thousand copies in its debuting week. All-in-all selling 1,868 physical copies and 102 E books of his book through social media platforms. The children's book is sold and distributed in the retail chains of Walmart, Barnes & Noble, Indigo, Amazon. With the continued  success of "The Sky Is The Limit " River Mason Eromosele is set to be a positive example for adolescents of all ages. The innovative book sets the bar for children to live their dreams at any age because the sky is truly the limit. His book was celebrated on The Quintessential Gentleman, Fresh Kid Nation, Enspire Magazine, Business Mogul, Medium, and Art2lecual.
In February 2020, Pilar and River set out on a press tour for their new children's book "The Sky Is The Limit". The first leg of their tour landed them on IheartMedia – Chicago "Lunch with the Brunch", 92.3 Soul FM, and 106.3 FM "Intellectual Show". Pilar & River's story  went viral landing them features on ABC News, Boston Herald, International Business Times, The Star Tribune  and News Break. Which caused their social media reach to escalate to over 150,000. The dynamic mom & son duo isn't stopping anytime soon.
You can keep up with them via social media Instagram @pilarscratch @rivermason_
(Courtesy of and in Conjunction with)
T.West 
CEO , 
T.West Public Relations 
(347)- 601-8230