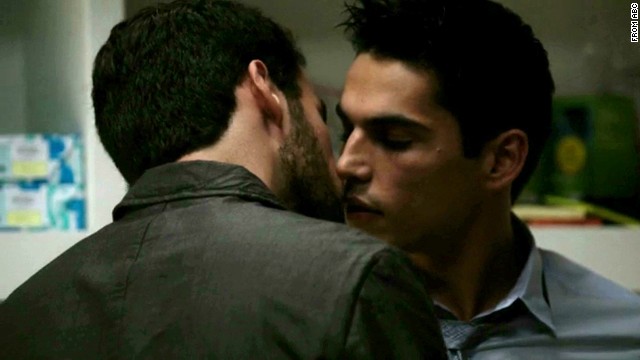 Tag Gay Sex
JADED: Journalism with a Touch of Shade- Lashaun Turner
Before you get your gender in a bender I also don't agree with excessive heterosexual sex scenes on television. There is too much sex on screen (period)!
Let me explain..
I officially unplugged from television around 2006-ish! As a non-tv subscriber, I've recently had to find entertainment during the pandemic. For the first time in decades I am watching a few series on Netflix, Hulu, Oprah etc. Remembering back in the day decades ago- nudity was sparse, and sex was only suggested, leaving a little something to the imagination. Well, that has definitely changed, and I personally don't think it's for the better!
According to a poll conducted last year by the Hollywood Reporter, the majority of TV viewers share concerns about excessive sex, violence and profanity on TV. 45% of respondents said on-screen sex bothered them some or a lot.
Some scholars argue that American media is the most sexually suggestive in the world. According to this view, the sexual messages contained in film, television, and music are becoming more explicit in dialog, lyrics, and behavior.
More LGBTQ characters on television than ever before:
As of 2017, Gallup estimates 4.5% of Americans identify as lesbian, gay, bisexual or transgender. It seems a matter of inclusion that shows like Greenleaf, Empire, The Chi, Queen Sugar and Power Book II: Ghost, have characters that are LGBTQ, which is great. However, I have to tell you, when I'm watching a show and BOOM- fade to two men beef bashing each other, or two women with a strap-on, it's not good.
" I don't mind if people are gay or transgender, it's their choice and body and none of my business. However, I'm offended to see this rammed down my throat every tv show I watch as if it's normal when it isn't. I don't accept that and shouldn't be forced to. Be gay but don't be overly graphic about it to prove a point. Where is my choice.? I don't want to see that garbage as it repulses me", wrote one commenter on a thread..
Sexual agenda or ratings:
Actually, the plot line isn't that great but we've thrown in some sex . So if you're wondering why the two main characters were having sex on a crowded bus, it's because that's all we could come up with. Isn't it brilliantly creative?
I wondered – did having a lesbian couple in The Chi- the scene where the one lady has on a strap-on in plain sight- was that necessary? Or the scene in Lovecraft Country where a androgynous person is seen standing naked with breasts and a penis- is it really necessary? Do we need to somehow be reminded that we have breasts and penises or that some men like to have breasts and some women want to have a penis-? Is any sex scene, whether heterosexual or homosexual, necessary in a movie? Is full nudity central to the plot or for ratings? The answer of course depends on who you talk to.
2 men and a condom vs 2 women and a Strap-on
It's not a matter of television involving gays/lesbians in their shows, gay rights, or anything like that. Although the proliferation of gay sex scenes does feel a lot like politically correct brainwashing at this point.
JADED: I don't enjoy watching gay sex scenes. I find it somewhat repulsive. In my opinion, it would be better to insinuate it, that's enough. Insinuate the heterosexual sex too (as I am sure this is possibly offensive to others as well). I'm also cool with that. If you can't have one without the other then get rid of both. There's always online porn if you're intent on it.
When I watch a movie I am more interested in the plot and character development. For the most part I believe many viewers feel the same.
What's your view? For more JADED- Journalism with a Touch of Shade visit Cali.FM
For More California news VISIT
For more Health News Visit Here
Check out more food ideas  on Cali.FM
For more Entertainment News visit HERE
Check out more great contributor stories, HERE